2019 Wall of Fame Inductee: Thomas Wolff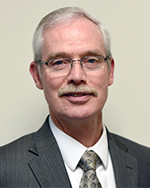 In his thirty-ninth year with the Tampa Police Department, Thomas Wolff is currently the manager of the Tampa Police Department's Communication Bureau. He is responsible for the radio communications between officers along with the processing of all 911 and non-emergency calls made within the City of Tampa.
Prior to this civilian role, Mr. Wolff served thirty years at TPD before retiring as the Major in charge of the Criminal Investigation Division where he oversaw the Forensic Unit, Homicide, Sex Crimes, Hit and Run, and Gang Squads; the Narcotics Unit, the Fugitive Apprehension Unit, and the Communications Bureau. During his career he worked at the Tampa Police Academy training recruits and officers, assisted in maintaining the department's accreditation, earned separate accreditation specifically for Communications. Mr. Wolff successfully coordinated the radio communications between multiple local, state and federal agencies for the Republican National Convention, Bollywood and other special events held in Tampa. He also partnered with the Criminology Department faculty as Grant Administrator for a Department of Justice Problem Solving Grant that led to a 24% reduction in auto burglaries in Ybor City.
Mr. Wolff earned two degrees from USF; a B.S. in Criminal Justice (1980) and a M.A. in Criminology (1991).