2019 Wall of Fame Inductee: Julie Krupa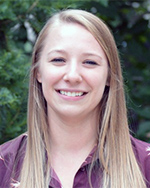 Julie M. Krupa is a Postdoctoral Scholar in the School of Criminal Justice at Michigan State University. In 2012, she graduated from Eastern Michigan University with a B.S. in Criminology and Psychology, and went on to earn her M.S. in Criminal Justice from the University of Central Florida. Most recently, she completed her Ph.D. in Criminology at the University of South Florida in 2018.
Dr. Krupa's research interests include: juvenile corrections, the intersection between public health and juvenile justice, and communities and crime. Her work has been published in the Journal of Child and Adolescent Substance Abuse, Substance Use & Misuse, and the Journal of Community Medicine and Health Education. She currently works on several funded initiatives in Detroit, MI including Project Safe Neighborhoods (PSN), Ceasefire, and Technology for Improvements in Public Safety (TIPS).
Dr. Krupa looks forward to continuing her work with community partners in Detroit through two initiatives aimed at addressing opioid abuse. She will be working with the Detroit Police Department (DPD) and its partners on an Opioid Abuse Diversion Program, as well as supporting the Wayne County Prosecutors Office (WCPO) on an Innovations in Prosecution project; this project seeks to reduce heroin/opioid overdoes and violent crime.