2017 Wall of Fame Inductee: Susie Perez Quinn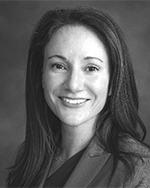 Susie Perez Quinn is the Chief of Staff for U.S. Senator Bill Nelson. As Chief of Staff, she serves as Senator Nelson's top advisor and leads a team of 73 staff, attorneys, and fellows to advance his agenda. She oversees all personnel decisions, budget management, and office policies, as well as ensuring the coordination of both the federal office and eight district offices. Ms. Perez Quinn is also heavily involved in Senator Nelson's work on the Commerce Committee. Prior to being named Chief of Staff, she served Senator Nelson's office as Deputy Chief of Staff for Policy, Legislative Director, and Legislative Assistant for Energy and Appropriations.
Ms. Perez Quinn has done notable work on major environmental issues, including Everglades restoration. She led efforts to secure over a billion dollars in federal funding for major restoration projects for the Everglades National Park, a World Heritage Site. She also played an essential role in crafting and passing bipartisan legislation, the RESTORE Act, that will provide more than four billion dollars in aid to the Gulf Coast following the devastating Deepwater Horizon BP Oil Spill.
In addition to her work on domestic issues, she's taken an active interest in foreign policy and completed the Woodrow Wilson Foreign Policy Fellowship in 2013 and the Council on Foreign Relations' Congressional Foreign Policy Study Group in 2015. She has also represented Senator Nelson on foreign missions to Israel and the United Kingdom.
Ms. Perez Quinn received a B.A. in Political Science and Criminology from USF and earned her M.A. in Political Management from the George Washington University in 2004. She grew up in Cape Coral and after graduating from USF, moved to Washington D.C. where she currently lives with her husband and son.