2016 Wall of Fame Inductee: Robert Siwik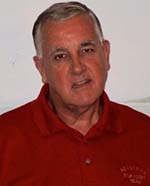 Chief Bob Siwik has been a part of USF since 1966, graduating with a B.A. in Criminal Justice in 1972. During this time, he also served three years in the Army's 82nd Airborne Division, and in Vietnam. He served 30 years as a police officer, starting as a deputy sheriff in Hillsborough County, then joining USF Police, and finally retiring as Chief of the USF St. Petersburg Police/Public Safety Department in 2004.
While working at USF, Chief Siwik completed Masters degrees in both Criminal Justice and Public Administration, and also attended the FBI Mini Academy (Executive Development Course). He taught as an adjunct instructor in Criminal Justice and Management.
In retirement, Chief Siwik developed the detailed Keystone Emergency Operation Plan and went on to initiate and direct a Mock Missing Children Exercise in 2011. Additionally he is a coordinator of his local Neighborhood Crime Watch and the USF St. Petersburg Retired Faculty Staff Association (RSFA).