2016 Wall of Fame Inductee: Meg Ross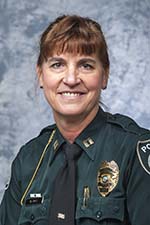 Captain Meg Ross began her career with the USF Police Department in 1988 as a patrol officer. She spent fifteen years in Patrol as an officer, corporal and sergeant. During this time she earned her Bachelor of Arts Degree in the USF Business College. She then served as the Accreditation Manager and was promoted to Support Services Lieutenant after successfully overseeing the agency's 3rd reaccreditation. She continued as the Accreditation Manager, but then also served as the Public Information Officer and manager of the Records section and the Communications Center.
Captain Ross was part of the first cohort of the USF MACJA program in 2006, earning her M.A. Degree in 2008. In 2010, She was assigned as the Patrol Commander. Under her leadership, the agency placed a renewed emphasis on traffic and pedestrian safety and won first place in the University Law Enforcement category of the International Association Chiefs of Police National Law Enforcement Challenge (2011), first place in the Florida Law Enforcement Challenge in the University Law Enforcement category and placed in the Florida DUI Challenge (2012).
In January 2014, she was promoted to Captain and assigned as the Operations Commander, overseeing Patrol and Communications. She and her family live in Temple Terrace and remain very active in the USF community.