2016 Wall of Fame Inductee: Joshua Lovelace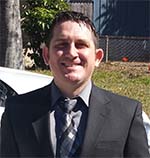 Joshua A. Lovelace is the Team Manager in the Office of Financial Aid and Scholarships at USF
St. Petersburg. He is a USF graduate with a B.A. in both Criminology and Psychology (2012), and a M.A. in Criminology (2014). His research interests include factors affecting police use of force and green criminology.
Joshua served eight years in the United States Army and left the service holding the rank of Sergeant. He deployed three times to Iraq and Afghanistan for a total of two years. He earned numerous awards and decorations including the Army Achievement Medal, Army Commendation Ribbon, Joint Service Commendation Medal, Joint Service Achievement Medal, Iraq and Afghanistan Campaign Medals, NATO Medal, Meritorious Unit Citation and the Order of the Spur.
Joshua intends to begin working towards an M.A. in Cybersecurity at USF, specializing in Cyber Intelligence or Digital Forensics. His goal is to use both his military experience and education to continue to proudly serve his country.