2016 Wall of Fame Inductee: Eric Biel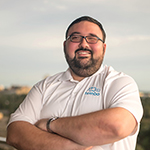 Eric Biel is an Administrative Specialist for the Home Instruction for Parents of Preschool Youngsters (HIPPY) program at the USF. In 2013, he graduated with distinction from USF with a B.A. in Criminology. He was selected as a Student Success profile to highlight his academic accomplishments, leadership, research, and community engagement. Eric continued his education at USF to earn his MBA in 2016.
Eric's interests include innovation, travel, international business, education, and entrepreneurship. His involvement with HIPPY created a passion for empowering parents. Eric co-founded Tembo Education, named in Forbes 30 Under 30 Social Enterprises parents living in the slums around the world to provide an education to their 0-6 year old children, via text message. His start-up company also won the State Collegiate Business Plan competition in 2016 which was a first for USF. Eric enjoys volunteering with community programs focusing on homelessness and education initiatives.