2015 Wall of Fame Inductee: Shelly Tomlinson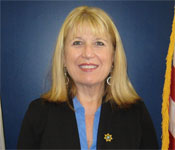 Shelley Tomlinson is currently serving as the Circuit 13 Deputy Circuit Administrator with the Florida Department of Corrections (FDOC) Community Corrections. She graduated from the University of South Florida in December 1979 with a Bachelor of Social Work degree. In May 2012, she earned a Master's Degree in Criminal Justice Administration from the University of South Florida.

Ms. Tomlinson began her career with FDOC in June 1983 as a Correctional Probation Officer in Hillsborough County/Circuit 13. She was promoted through the ranks of FDOC before being appointed to her current position where she has served since May 2012. During her career, she has been instrumental in the development of various partnerships between social service agencies and local law enforcement agencies. She served on task forces concerning the development of sex offender probation, and other special needs offenders. She was involved in the implementation of Drug Offender Probation inpatient drug treatment programs within Community Corrections. Ms. Tomlinson has been recognized for her work with The American Correctional Association Commission Accreditation in Florida.

Ms. Tomlinson enjoys volunteering with Special Olympics of Florida and the Florida Council of Crime and Delinquency.