2015 Wall of Fame Inductee: Monica Landers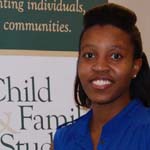 Monica Landers is currently employed as a Social and Behavioral Researcher with the Department of Child and Family Studies at the USF College of Behavioral & Community Sciences. She earned her Master of Social Work degree as well as her M.A. in Criminology at the University of South Florida. She endeavors to utilize her educational background and experiences in order to positively affect the lives of adolescents involved in, or who are at risk of involvement in, the juvenile justice system.

Monica research interests include the intersection of mental health and juvenile justice and multi-system response for dually-involved and dually-adjudicated youth. She has collaborated on various projects, publications, and presentations centered on systems of care, commercial sexual exploitation of children, out-of-home care, child welfare, cross-over youth, and adolescent parenthood. Additionally, she has worked with the Florida Mental Health Institute staff to implement a Summer Research Institute geared toward introducing high school students to mental health research behavioral healthcare related fields.