2012 Wall of Fame Inductee: Rick Ramirez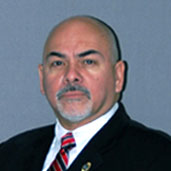 Rick Ramirez received his Bachelor's Degree in Organizational Management from Warner Southern College and a Master's Degree in Criminal Justice Administration from the University of South Florida in He is also a graduate of the Florida Criminal Justice Executive Institute, Senior Leadership Program, Class 14.
Mr. Ramirez began his career with the Volusia County Sheriff's Office as a Deputy Patrolman and investigator for the Special Investigations Unit. In 2000, he joined the Florida Department of Law Enforcement (FDLE) where he served as a Special Agent for the Orlando regional office. In 2006, he was promoted to Special Agent Supervisor at the Tampa Bay Regional Operations Center, and in 2008, he was promoted to Assistant Special Agent In-Charge, Chief of Investigative Operations.
On September 29, 2011, FDLE Commissioner Gerald Bailey appointed Rick Ramirez as the Special Agent in Charge (SAC) of the FDLE Tampa Bay Regional Operations Center and co-chair of the Regional Domestic Security Task Force (RDSTF) for Region 4.
SAC Ramirez served as an active duty member for both the United States Navy and United States Army National Guard for over ten years. . In 2011, SAC Ramirez served as the President of the Tampa Bay Area Chief of Police Association and presently serves as a member of the Board of Directors and an Adjunct Faculty member at the Hillsborough Community College.