2012 Wall of Fame Inductee: Jennifer Wareham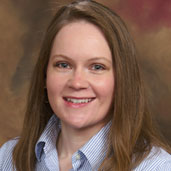 Jennifer Wareham is an Associate Professor at Wayne State University (WSU) in Detroit, MI. She earned several degrees in Criminology from USF, including a B.A. in 1998, M.A. in 2001, and Ph.D. in 2005. She also earned a Graduate Certificate from USF in Geographic Information Systems in 2003. Dr. Wareham teaches undergraduate and graduate courses on research methods, criminological theory, and juvenile justice. She has co-authored over 30 scholarly publications. Her research focuses primarily on understanding the causes and correlates of juvenile delinquency, with an emphasis on mental health and substance use problems.
In 2009, Dr. Wareham received two grants to conduct secondary data analyses, one from the National Institute of Justice and another from the Bureau of Justice Statistics. That same year, she was also awarded an internal grant by WSU to conduct a survey of Detroit residents about community problems, satisfaction with police, and social control mechanisms. While Dr. Wareham believes that she has been blessed with many professional achievements, she feels her most notable achievement is her nine-year-old daughter.