2019 Wall of Fame Inductee: Manley Jaquiss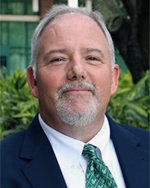 Manley Jaquiss is a Correctional Probation Senior Supervisor with the FloridaDepartment of Corrections in the Thirteenth Judicial Circuit in Tampa, Florida. He has been with the Department since 1988 and spent twenty-five years in the Twentieth Judicial Circuit in Ft. Myers. He currently manages the Tampa Intake office and oversees those sentenced for felony offenses.
Mr. Jaquiss received a B.A in Criminal Justice in 1986 from the University of South Florida and a M.A. in Criminal Justice Administration from the University of South Florida in 2015. His focus of study in the Master's program was the exploration of appropriate housing for sex offenders in the community. He is utilized as a guest lecturer in Criminology and works on obtaining interns for the Department of Corrections.
Mr. Jaquiss is the former Chairman of the Ft. Myers-Naples USF Alumni Chapter and served two terms as a Director on the USF Alumni Association. He remains active with many USF activities together with his wife Jill ('87) and daughter Megan ('16).