2019 Wall of Fame Inductee: Kimberley Munzo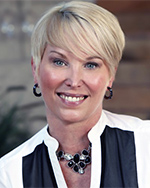 Kimberley Munzo is the founder and CEO of AspirEDU, Inc., a provider of educational analytics to the higher education and K-12 community. She created two software platforms to help schools offer more proactive support to their students. Dropout Detective uses the school's existing data to automatically identify students that are at risk of dropping out of or failing classes. Instructor Insight provides metrics on the performance and engagement of instructors in their courses. These platforms are hosted on the AWS platform and are used by nearly 200 schools in the U.S. and as far away as Shanghai and Sydney.
Ms. Munzo graduated from USF in 1999 with a B.A. in Criminology. She went on to earn an MBA from Saint Leo University. She has taught criminal justice courses at Saint Leo University and business courses at other institutions. Her experience in teaching and in managing educational initiatives drove her to create solutions to problems she saw first-hand.
Ms. Munzo is a USF Fast 56 award recipient in the Class of 2016 and 2018.