2016 Wall of Fame Inductee: Lee Bercaw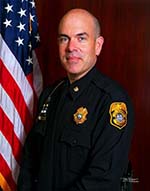 Lee Bercaw is a Major at the Tampa Police Department. He holds a B.A. in Criminology and a M.A. in Criminal Justice Administration from USF.
During his 20 years as an officer, Major Bercaw has become known for his proactive crime reduction initiatives and his management of security and transportation for many large scale events. He partnered with the VM Ybor community, and members of his MACJA Cohort to develop a Prostitution Exclusion Zone, which reduced crime and improved the quality of life along Nebraska Avenue. He established the department's Professional Standards Bureau and launched the Quality Assurance program, which improved the department's best practices through audits and training. Under his direction, the department achieved accreditation. Major Bercaw teaches law enforcement officers to be certified field trainers. He maintains a close working relationship with USF through guest lecturing, research projects, and grant partnerships.
He is an active member of the Tampa Bay Area Police Chiefs Association and serves as the secretary treasurer for their newly established Education and Research Foundation.