2016 Wall of Fame Inductee: Joan Reid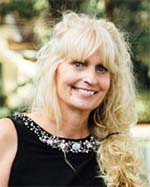 Joan A. Reid, Ph.D., LMHC, CRC is an Assistant Professor in the Criminology Program at the USF St. Petersburg. Dr. Reid earned a Ph.D. in Criminology in 2010 and a M.A. in Rehabilitation and Mental Health Counseling in 2004 from USF.
Dr. Reid has worked with key community partners to conduct research on sex trafficking of teens throughout Florida. Contributing to a federally-funded national research project in 2007, she evaluated services available to adolescents exploited in sex trafficking, highlighting the need for victim-centered protocols and specialized services. In 2012, the American Psychology-Law Society funded her research on trauma bonding in trafficked youth aimed at informing treatment practices addressing the long-term psychological consequences of sex trafficking. This year, she collaborated with community partners to develop and field test a peer-to-peer sex trafficking prevention campaign using social media. Dr. Reid has authored over 30 scholarly articles, books, book chapters, and research reports.