2016 Wall of Fame Inductee: Allison DeFoor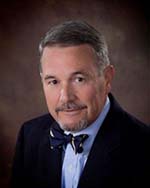 Dr. Allison DeFoor, a seventh-generation Floridian, is an Episcopal priest, and serves as Canon to the Ordinary to the Bishop of the Diocese of Florida, in Jacksonville. He has a long background in criminal justice, including service as a prosecutor, public defender, judge and Sheriff of Monroe County. He has degrees in law, criminology and theology including a M.A. in Criminology from USF.
Dr. DeFoor was active in a small group of reformers who undertook to reform the justice system in the Florida Keys in the 1980's. Following the Miami Herald's series "Smuggler's Island", the group was successful in electing an honest state attorney. Subsequently, the reform efforts resulted in the indictments of the former state attorney, former city and county attorney, the Public Defender, and some local attorneys. Dr. DeFoor was elected as county judge at the age of 28 and then later served as a Circuit Judge and Sheriff of Monroe County. In 1990, Dr. DeFoor was the Republican Nominee for Lt. Governor of Florida as running mate of Governor Bob Martinez. Subsequently, Dr. DeFoor served as a law professor at the University of Miami, and a member of the Board of Governors of the Florida Bar. He also served as a trustee of numerous boards including the Florida Chamber Foundation, Florida Historical Society, Associated Industries of Florida, and Florida Tax Watch.
Dr. DeFoor has been concurrently active in conservation and served as Everglades Czar to Governor Jeb Bush. In 2014, he chaired passage of Amendment 1, authorizing the largest land protection efforts in world history.