2015 Wall of Fame Inductee: Danielle Chen-Loy Chin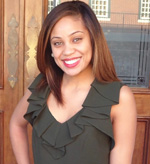 Danielle Chen-Loy Chin is an undergraduate Honors student at the University of South Florida majoring in Criminology, with a minor concentration in Psychology. Since 2014, she has worked as a student assistant to the Senior Vice Provost in the University of South Florida's Provost Office. During her time at USF, she has maintained placement on the Dean's List in the College of Behavioral & Community Sciences, joined the USF Chapter of the National Society of Collegiate Scholars, and interned with Tampa's very own City Council.

Danielle's collegiate experience has sparked her interest in the research topic of racial injustices in law enforcement. Her Honors Thesis on this topic is due to be completed in April of 2016.

Danielle is expected to graduate in the spring of 2016. After graduation, she looks forward to furthering her education by obtaining her M.A. and Ph.D. in Criminology from the University of South Florida.