2012 Wall of Fame Inductee: R. Gil Kerlikowske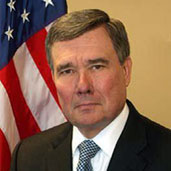 R. Gil Kerlikowske has served as the Director of the Office of National Drug Control Policy since 2009. As the Nation's "Drug Czar," Mr. Kerlikowske coordinates all aspects of Federal drug control programs and implementation of the President's National Drug Control Strategy. Mr. Kerlikowske holds a B.A. and M.A. in criminal justice from the University of South Florida, and is a graduate of the National Executive Institute at the Federal Bureau of Investigations Academy in Quantico, Virginia.
Mr. Kerlikowske brings nearly four decades of law enforcement and drug policy experience to the position, most recently serving 9 years as the Chief of Police for the Seattle Police Department. In his previous positions as deputy director for the U.S. Department of Justice, Office of Community Oriented Policing Services and president of the Major Cities Chiefs Association, Mr. Kerlikowske strongly supported community oriented policing services, which promote partnerships and problem-solving techniques to address conditions that give rise to public safety issues such as crime, drugs, and social disorder. Mr. Kerlikowske also served as police commissioner of Buffalo, New York, where his selection by the then-mayor became the first outside appointment in 30 years, and chief of police of two Florida cities, Fort Pierce and Port St. Lucie, both of which received the Attorney General's Crime Prevention Award. Mr. Kerlikowske also served in the U.S. Army Military Police. His awards include the Presidential Service Badge, the Dr. Nathan A. David's Award for Public Service and the Seattle University Community Leader Award.
Mr. Kerlikowske has served as chair of the board of directors of Fight Crime: Invest in Kids and on the Seattle/King County Advisory Board for the Salvation Army. He also was an adjunct faculty member at Florida Atlantic University, Buffalo State College and Seattle University.