2012 Wall of Fame Inductee: Carl W. Hawkins, Jr.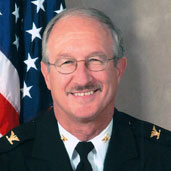 Carl W. Hawkins, Jr. retired in 2009, as a Colonel from the Hillsborough County Sheriff's Office with nearly 35 years of progressive law enforcement experience. While at the sheriff's office in 1996, Colonel Hawkins was awarded a Community Policing Fellowship to the Federal Law Enforcement Training Center. There he researched and helped develop the Small Town and Rural Community Policing Train-the-Trainer Program. From 2009-2010, he worked for the Police Executive Research Forum (PERF) as a Senior Associate. In 2011, his consulting business was established.
Colonel Hawkins earned a Doctor of Public Administration degree and Master of Science degree in Criminal Justice from Nova Southeastern University, and a Bachelor of Arts degree in Criminal Justice from the University of South Florida. He is a graduate of the Senior Management Institute for Police at PERF. the Southern Police Institute at the University of Louisville, and the Delinquency Control Institute at the University of Southern California.
Dr. Hawkins has 30 years of college/university teaching experience and published ten journal articles, eight book chapters, thirteen management studies, and two federal government reports. He is a frequent guest speaker throughout the United States on criminal justice issues and leadership development.